Henry Doorly Zoo & Aquarium in Omaha Nebraska was recently featured in a six-page magazine spread in Landscape Architect & Specifier News. Koolfog delivered a custom fogscape for the Zoo's $14 million Alaskan Adventure water feature, showcasing approximately 80 bronze animal sculptures, rockwork and a water play area with an interactive splash pad, all designed to introduce children to Alaska's native animals and educate them about their natural environment.
The exhibit encourages hands-on learning through play with an integrated sensory experience that includes different moving water functions and sound to bring the environment and it's bronze animals to life. The 18,625 square foot area is home to various wildlife figures including salmon, puffins, sea lions, orcas, and a bear. Its centerpiece is a 25 feet tall, humpback whale sculpture that seems to breech right through the splash pad's blue "sea" surface amidst moving water jets, sprays and fog clouds.
Koolfog collaborated with Outside The Lines, Inc. (OTL) as part of the project design team assembled to create this realistic Alaskan inspired environment and successfully implement an automated fog system. Different rock formations representing those found in the Alaskan coastal regions, serve as platforms for the various animal sculptures with the boulders concealing an intricate web of water lines, custom manifolds and nozzles installed to create the immersive fogscape.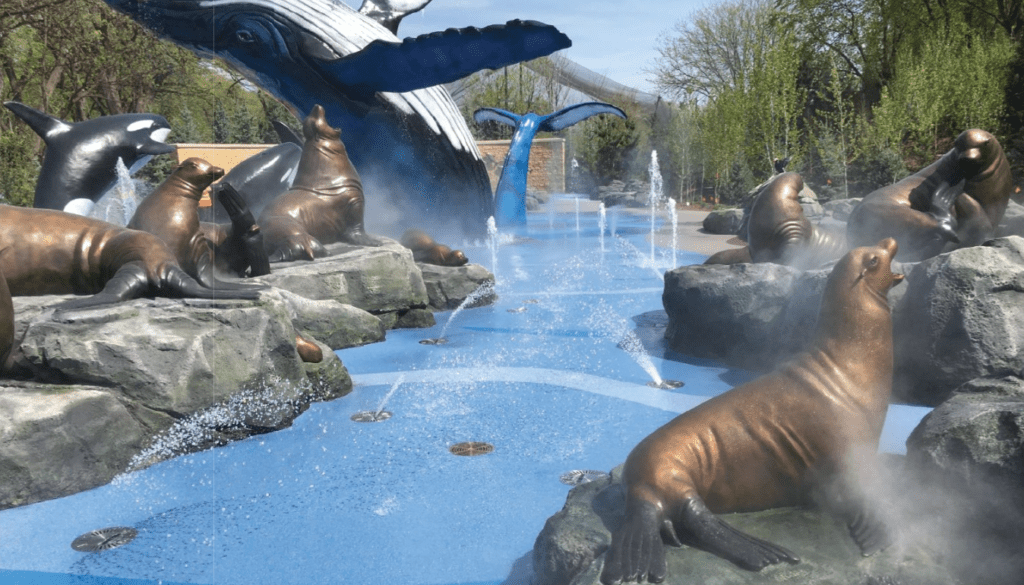 According to Landscape Architect's article, "The spraying water is controlled through computer controls, which systematically spray a mix of water and air through nozzles arranged around the sculptures to simulate the water effects made by the animals as they breech, splash, and spray water. Koolfog's Oasis Series High Pressure Fog System was included to maximize these effects. Click here to read more about Henry Doorly Zoo's Alaskan Adventure.

Latest posts by Michelle Roe
(see all)