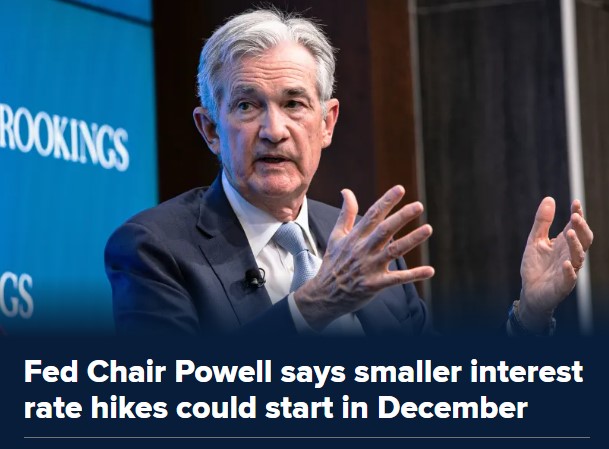 This isn't exactly new news – most prognosticators figured the Fed would only raise their rate by 0.5% in December, instead of the 3/4% hikes recently – but the stock market liked it (up 628) and the 10-year yield dropped a tenth.  All we need is mortgage rates to be in the 5s for selling season!
Monetary policy affects the economy and inflation with uncertain lags, and the full effects of our rapid tightening so far are yet to be felt. Thus, it makes sense to moderate the pace of our rate increases as we approach the level of restraint that will be sufficient to bring inflation down. The time for moderating the pace of rate increases may come as soon as the December meeting. Given our progress in tightening policy, the timing of that moderation is far less significant than the questions of how much further we will need to raise rates to control inflation, and the length of time it will be necessary to hold policy at a restrictive level. It is likely that restoring price stability will require holding policy at a restrictive level for some time. History cautions strongly against prematurely loosening policy. We will stay the course until the job is done.
https://www.cnbc.com/2022/11/30/fed-chair-jerome-powell-says-smaller-rate-hikes-could-come-in-december.html

He never had a clue about the real estate market, and was just winging it – and nobody has helped him with it since. "…..hopefully come out in a better place between supply and demand"???  The guy who has our economy in his hands is living on hope?
~~~~~~~~~~~~~~~~~~~~~~~~~~~~~~~~~~~~~~~~~~