You've probably seen the viral videos featuring our QLYFT building system. QLYFT is very different from how you've seen post-frame buildings done in the past, so naturally, you will have some questions. Well, we're excited and happy to answer all your questions! 
This article is to help answer the popular questions we keep getting about our QLYFT system. 
Those questions are:
Is QLYFT for sale?  

Is QLYFT patented? 

What are the benefits of using QLYFT?

Do I have to use QLYFT for my pole barn?

 

Does QLYFT make the cost of my pole barn cheaper?
Just for fun, here's an 80′ x 400′ x 18′ commercial building that was raised with the QLYFT building system.

QUESTION #1: Is QLYFT For Sale?
ANSWER: NO
The QLYFT building system is not for sale. Research and development for the QLYFT building system started in 2018. The first model was built in the same year and has been used regularly by our crews since the Fall of 2020.
We've spent a lot of time training our crews to perfect the build process, and we want to keep everything in-house for now. 
Follow-up bonus question: Will the QLYFT building system ever be for sale? That's a great question! We don't have plans to sell it in the future, but we're not ruling that option out.
QUESTION #2: Is QLYFT Patented?
ANSWER: YES
Yes, FBi Buildings' QLYFT building system is patented. Everything is public record and can easily be found online. But to save you the trouble, details are below.
| | |
| --- | --- |
| U.S. Patent Number | 11,242,680 |
| Inventors | Alan Schambach and Ken Culbreth |
| Date the Patent Application was Filed | November 30th, 2018 |
| Date the Patent was Granted | February 8th, 2022 |
For those who want to dig deeper into all the trademarks and patents held by FBi Buildings, feel free to check out this link.
Question #3: What are the Benefits of Using QLYFT?
ANSWER: Higher quality and safety without added cost!
When you're making a significant investment in a new post-frame building, having top-tier quality is a priority. Quality is at the heart of the QYLFT system. Thus the "Q" in QLYFT, and our goal is to "lyft" quality.
The 6 benefits of using QLYFT are: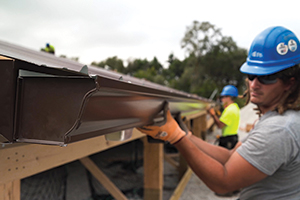 Enhanced construction quality

Transparent inspections

Less strain on materials

Less weather delays

Improved crew safety

Reduced power line costs and delays
Now how can you have all that without it costing more? Read the 5th Q&A below, and you will have your answer!
QUESTION #4: Do I Have to Use QLYFT For My Pole Barn?
ANSWER: NO
Our standard operating procedure for our crews is utilizing the QLYFT building system. This is a part of the training process for new hires, and all of our crews across all 6 states (Illinois, Indiana,  Iowa, Michigan, Ohio, and Wisconsin) are proficient with this building process.
Now, that being said, we are a post-frame company that's been around since 1958. We are absolutely capable of building a pole barn without using the QLYFT building system if that's something you prefer. However, you would be losing the benefits that come along with it.

Also, in some cases, there are times that we are not able to use the QLYFT building system. For example, if the new building is being built close to an existing structure or other obstacles that can't be moved, we can't use the QLYFT system. This is due to the fact the walls can't fan out on the ground while they are being constructed and then lifted with the hydraulic system used by the QLYFT building system. 
QUESTION #5: Does QLYFT Make the Cost of My Pole Barn Cheaper?
ANSWER: At the moment, no, but it won't cost more either.
So the bad news is that the QLYFT building system doesn't decrease the overall cost of the project. However, the good news is that it doesn't increase the cost either!
The truth is, it's a wash! There are some cost savings involved with the QLYFT building system, but there is one extra expense that comes along with the process as well. Details are below. 

---
SPECIAL NOTE: FBi Buildings has used the QLYFT building system since 2020. As we continue to refine the process and system, we do believe that there will be cost savings that we can pass on to the customer in the future.
---
Less Labor Costs
The building process for QLYFT is very appealing to the older generation of construction workers because there is less climbing and wear/tear on the body. This means we are able to retain crews that have more experience in the field. More experience means these crews are highly efficient. Having more efficient workers means that we can lower the labor costs on our buildings, thus saving the customer money.
Less Material Costs
Building on the ground means less damage to
materials
up in the air.  Less damage means lower cost to the customer.
Less Safety Costs
Building on the ground reduces the cost of fall protection and the risk of injuries due to falls. Which again results in a lower cost to the customer.
More Equipement Costs
When the QLYFT is being utilized, there will be an extra truckload required to bring the equipment to the job site. Then there is also an extra expense for the setup. 
So by decreasing the labor, material, and safety cost and increasing your equipment cost, everything evens out! So you're getting a higher quality building for the same cost if you built with or without the QLYFT building system.
Are You Ready to Build With The QLYFT Building System?
Whether you decide to build with the QLYFT building system or not, FBi Buildings' 60+ years of experience in the post-frame construction industry should help you feel confident that you are in good hands.
If you want to learn more and are interested in receiving a free quote, please request a free pole barn quote. 
A Project Sales Consultant will love to review the details with you, offer feedback, and move you down the building process journey.